July 26th, 2015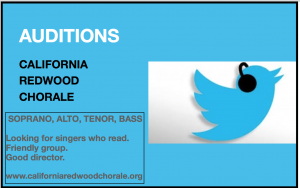 The California Redwood Chorale is auditioning singers in all sections.
If you read music and have choral experience, please contact Executive Director, Gerry Schultz, to set up an audition. Her email is gerryschultz3@gmail.com
Happy 2016! We are having mid-winter auditions.
Here are some recent quotes written to CRC:
"Your choir is amazing." "The talent overwhelms me." "I love the big, supportive, wonderful family that is CRC!!"
Would you like to audition? Contact: gerryschultz3@gmail.com
Filed under
Uncategorized
|
Comments Off
July 26th, 2015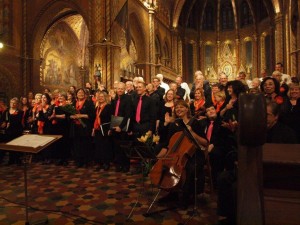 CRC and Monteverdi Chorus of Budapest warming up at Matthias Church in Budapest, June 20, 2015. Over 500 people came to the concert! Watch video of "Joshua fit the Battle of Jericho" followed by  John Rutter's "Requiem".
Filed under
Uncategorized
|
Comments Off