June 19th, 2017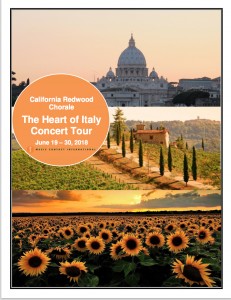 A few days in Rome for a "Roman Holiday", then off to Tuscany to sing and enjoy!
Join us for this delightful adventure. We have room for a few more travelers. The price is good! And the company is so nice.  Email Gerry for all the delicious details. gerryschultz3@gmail.com
If you are a singer….even better! And you can bring a companion!
Come to hear us sing "Carmina Burana" March 17 and 18 with Sonoma County Philharmonic.  wow!
Attend our spring concerts at the end of April.  beautiful music!
Travel to Italy with us in June.  what a year!
Filed under
Uncategorized
|
Comments Off
June 3rd, 2017
CRC in rehearsal with Director, Robert Hazelrigg and Pianist, John Hazelrigg (brothers).
Rehearsals will be:
Sunday, June 11 and 25 from 1 – 3.
Saturday, July 1 and 8 from 10 – 1.
We need tenors, baritones, and basses who read.
CRC is a good choir with a very friendly atmosphere!
Contact gerryschultz3@gmail.com
Filed under
Uncategorized
|
Comments Off