February 9th, 2022
Advance tickets for a lesser price are available at BrownPaperTickets.
Go to BLOG ROLL to the RIGHT… and click on either Saturday or Sunday for advance tickets.
Advance tickets on BrownPaperTickets must be cut off hours before each concert to allow for tabulation and organization.
You may, of course, buy tickets at the door!
Regular price tickets for $45 are available at the door.
Door tickets will be purchased with cash or check.
If cash..please have the correct change ready. Thank you.
If check…please make it out to CRC. Thank you.
THANK YOU FOR COMING!
Please bring your mask.
Filed under
Uncategorized
|
Comments Off
February 9th, 2022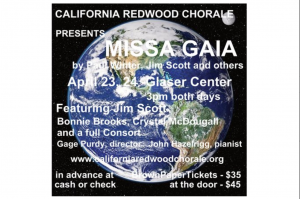 California Redwood Chorale presents Paul Winter's MISSA GAIA -EARTH MASS.
MISSA GAIA composer, Jim Scott, will be performing with the singers and a full consort of musicians.
Additional featured singers are Bonnie Brooks and Crystal McDougall Purdy.
Conducted by Gage Purdy. Accompanied by John Hazelrigg.
The consort features Andy Collinsworth, soprano sax.
More Consort musicians are Abigail Summers cello, Sara Williams oboe, Tony Blake percussion, Joe Kelner percussion, and Joel Kruzic bass.
This is a not-be-be-missed special and magical event. The beautiful music combines vocals of the singers with vocals of the humpback whale and the wolves! MISSA GAIA is an iconic piece of music beloved by so many people. Come and celebrate Earth Day weekend with the California Redwood Chorale as we celebrate our 15th Anniversary by singing this for you!
Filed under
Uncategorized
|
Comments Off