March 13th, 2023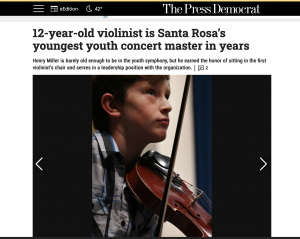 Henry Miller recently had his 13th birthday,
At his first rehearsal with CRC, he impressed Director Gage Purdy and the singers with his calm demeanor, his poise, and his beautiful mature sound.
Henry will be featured on Eric Whitacre's FIVE HEBREW LOVE SONGS and on Ola Gjeilo's ECCE NOVUM.
Filed under
Uncategorized
|
Comments Off
March 8th, 2023
Conductor Gage Purdy and Pianist John Hazelrigg work so well together! They guide CRC through productive rehearsals and thrilling concerts.
We call them our "dream team"!
Filed under
Uncategorized
|
Comments Off