October 16th, 2017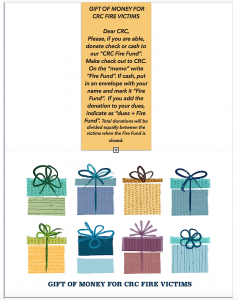 FIVE (5) of our California Redwood Chorale family lost their  homes in the fires. Our family is donating to our CRC Fire Fund. If  YOU would like to donate, please send a check to:
California Redwood Chorale
4401 Joy Rd. Occidental, CA 95465
The donations will be divided equally for each fire victim. CRC will give each victim a check for the December Holidays. It is our gift to them.
Please donate if you are able. THANK YOU SO MUCH!
Filed under
Uncategorized
|
Comments Off